Our Treasure For Lower Saxony
Services:
Exhibition Stand Design
Brand Staging
Stakeholder Communication
Partner:
PROJECT MANAGEMENT Karin Abenhausen (NDR), Tom Fischer (NDR)
CURATION Karin Abenhausen (NDR), Esther Tusch (NDR)
EXHIBITION GRAPHICS Sebastian Moock
Project period:
An exhibition of the Norddeutscher Rundfunk on the occasion of the 75th anniversary of the state of Lower Saxony
Duration: 8.10.2021 - 2.1.2022 in the State Museum Hanover
For the 75th anniversary of the state of Lower Saxony, NDR asked the people of Lower Saxony to send in their most private mementos. Hundreds of treasures were sent in: Photos of technical devices developed in Lower Saxony, memories of EXPO 2000, the storm tide in 1962 or even the fall of the Berlin Wall. Events that have moved the country and shaped people's memories. And also very personal experiences that have their place in the state's history.
The crowning glory was the exhibition "Our Treasure for Lower Saxony", which was opened on October 8, 2021 by Lower Saxony's Minister Stephan Weil as follows: "I am very happy about this great exhibition of the NDR, which tells a lot about the history of our state and its people by showing those small finds. (...) A wonderful birthday present for the people of Lower Saxony."
Accompanying more than 60 objects and contemporary testimonies, historical material from the NDR radio and television archives was shown on screens and at a listening station. Visitors who wanted to dive even deeper into the state's history could do so on site using QR codes and their own smartphones.
NDR's deputy director and Landesfunkhaus director Andrea Lütke emphasized the importance of the exhibition as a place of remembrance: "Our goal is to tell personal stories through individual mementos. This is how history comes alive. The historical events for this can be found in images and sound in the NDR archives. In the exhibition, we combine both: personal stories of the people in Lower Saxony and NDR archive treasures - in keeping with our programming mission."
BAUKUNST.PLUS developed the exhibition concept and realized the room-in-room design together with a team assembled especially for this project. We are very happy that we were allowed to be part of this short but intense "Treasure for Lower Saxony".
Begleitend zu mehr als 60 Gegenständen und Zeitzeugnissen wurde historisches Material aus den Hörfunk- und Fernseharchiven des NDR auf Bildschirmen und an einer Hörstation gezeigt. Besucherinnen und Besucher, die noch tiefer in die Landesgeschichte eintauchen wollten, konnten dies vor Ort mit Hilfe von QR-Codes und dem eigenen Smartphone tun.
Die stellvertretende Intendantin des NDR und Landesfunkhausdirektorin Andrea Lütke hob die Bedeutung der Ausstellung als Ort der Erinnerung hervor: "Unser Ziel ist es, über individuelle Erinnerungsstücke persönliche Geschichten zu erzählen. So wird Geschichte lebendig. Die historischen Ereignisse dazu finden sich in Bild und Ton in den NDR-Archiven. In der Ausstellung verbinden wir beides miteinander: Persönliche Geschichten der Menschen in Niedersachsen und Archivschätze des NDR – ganz im Sinne unseres Programmauftrags."
BAUKUNST.PLUS entwickelte das Ausstellungskonzept und realisierte zusammen mit einem eigens für dieses Projekt zusammengestellten Team das Raum-in-Raum-Design. Wir freuen uns sehr, dass wir Teil dieses kurzen, aber intensiven "Schatzes für Niedersachsen" sein durften.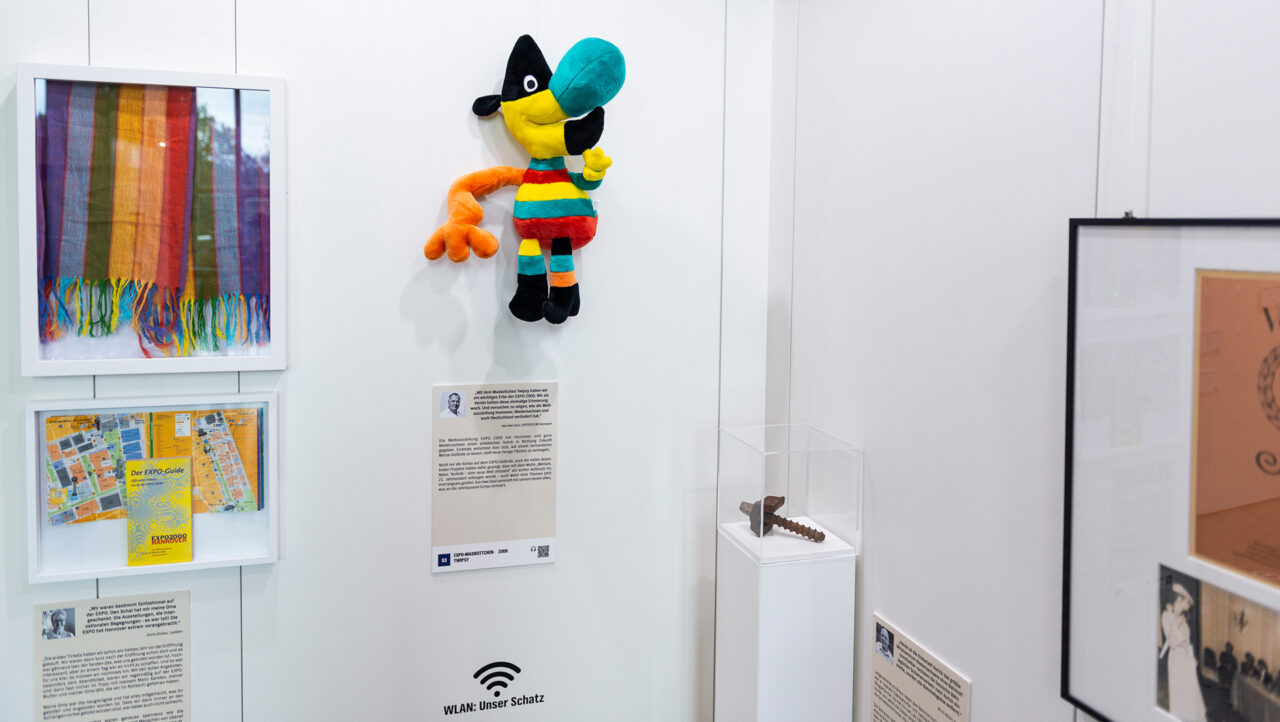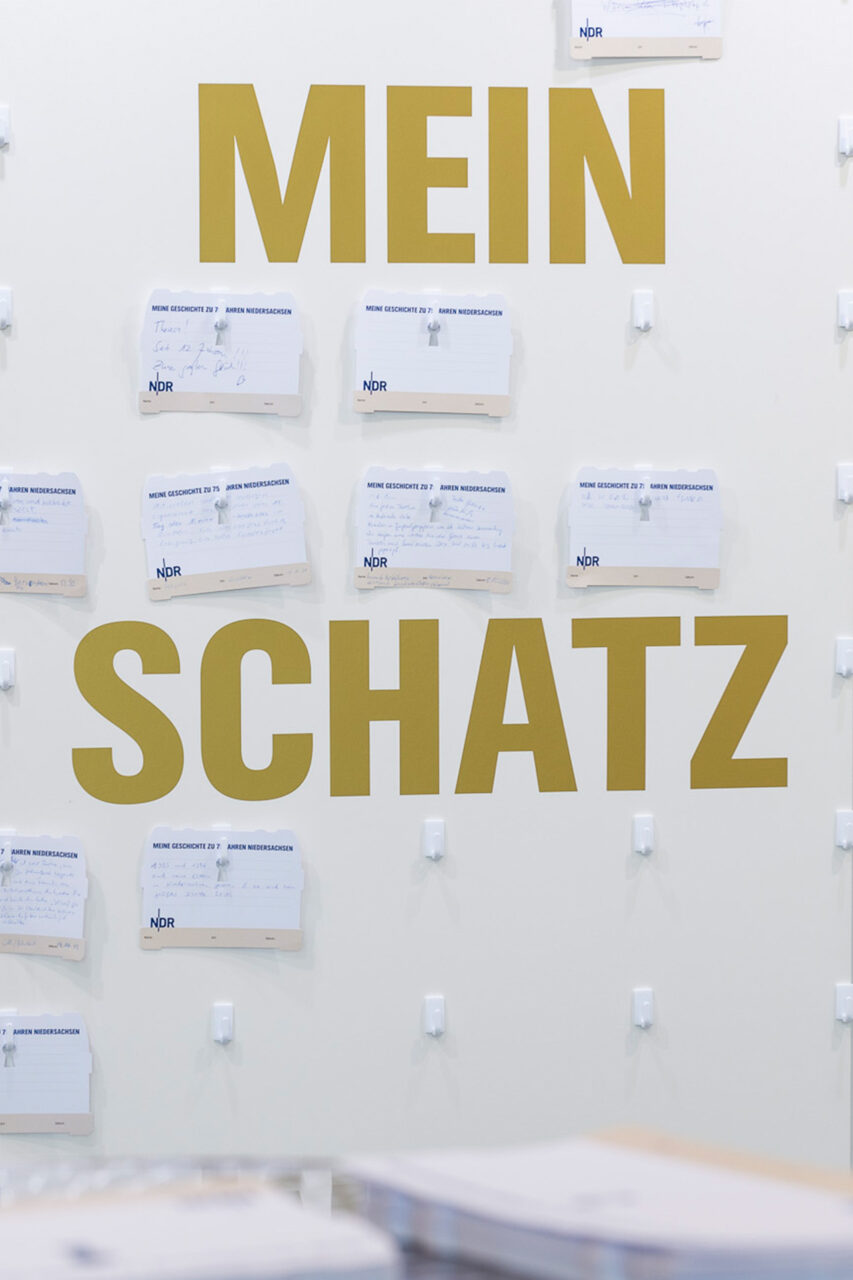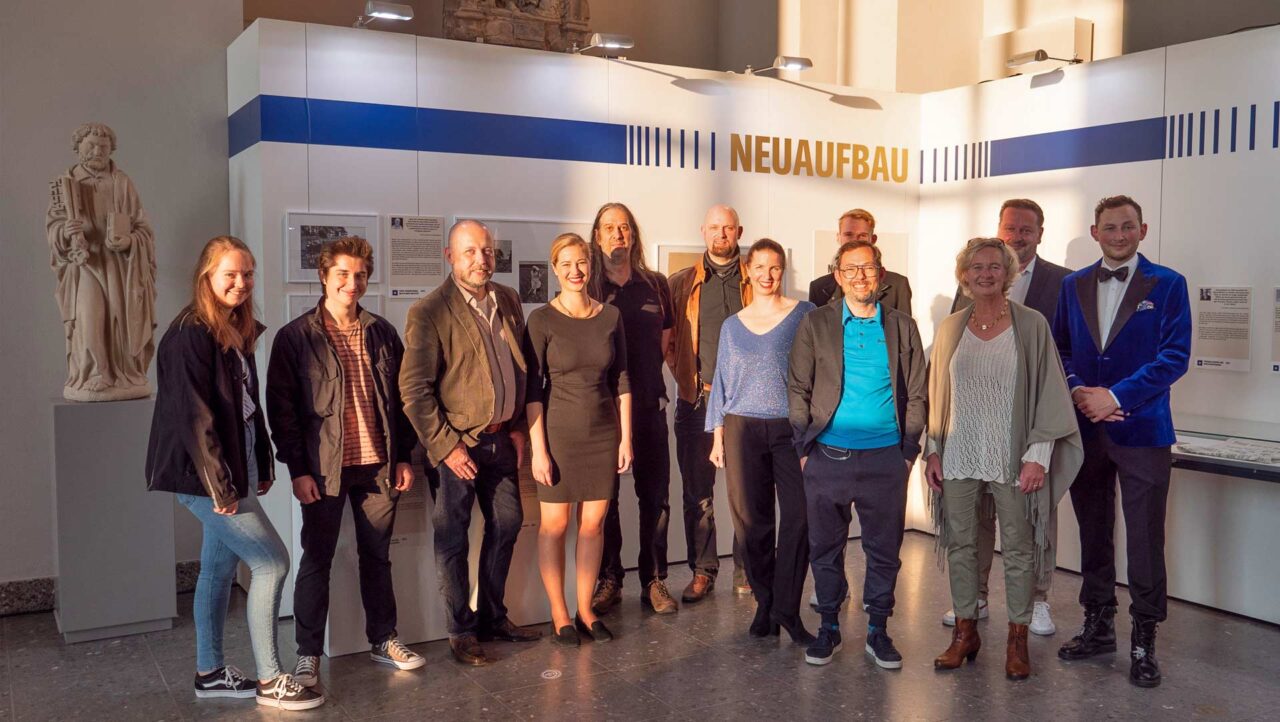 Kathrin Albrecht hat mit ihrer professionellen und unaufgeregten Arbeitsweise, bei der sie stets den Überblick fürs große Ganze wahrte, maßgeblich dazu beigetragen, dass die von Ministerpräsident Stephan Weil eröffnete Ausstellung zu einem Highlight des ansonsten sehr unter Corona leidenden Jubiläumsjahres wurde. Wir wertschätzen sehr, wie sie im Hintergrund die Fäden in den Händen behalten und trotz großen Zeitdrucks beste Qualität abgeliefert hat.

Karin Abenhausen | Norddeutscher Rundfunk